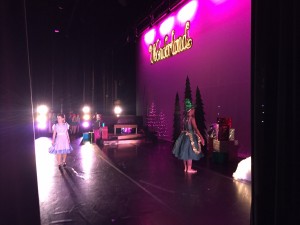 The holiday season officially started last week when SIDEWAYS performed Once Upon a Holiday at Blessed Trinity Catholic High School. It is always exciting to see our favorite characters return to the stage and bring holiday cheer to the Roswell audience.  The beautiful lighting and extravagant sets create a wonderful mood for the dancers and the audience.
SIDEWAYS apprentice Kate Buchanan debuted as the Grinch, entertaining audiences in this crowd favorite number.  The addition of silks during the contemporary snow piece stunned the audience and closed the first half of the show with a huge applause. The Foster Schmidt Dance Company performed a fun jazz dance to "Winter Wonderland" before each matinee of Once Upon a Holiday, which not only energized the audience, but also energized SIDEWAYS dancers waiting to begin the show back stage. We can't wait to see them perform again.
Off stage the holiday cheer continued. Audience members enjoyed delicious concessions provided by eager volunteers from Foster Schmidt Dance Company. The "Java Ladies" sold hot chocolate, coffee, and cookies. Beautifully hand decorated pointe shoes and wreaths were also for sale, made by students, parents, and faculty members from Atlanta Dance Central. Some lucky patrons even walked away having won experiences with the dancers from SIDEWAYS' silent auction.
This was the by far the best year of Once Upon a Holiday yet! We couldn't have done it without our volunteers, dancers, audience members, and SIDEWAYS supporters. They have already made our holiday season so merry and bright. SIDEWAYS can't wait to take the Blessed Trinity stage once again in June for our Tenth Anniversary Show in June of 2016. We hope to see you there!