Thank you so much for all the support on our video for World Down Syndrome day! The video currently has 2,600 views and counting! If you missed it, you can view the video here:  https://www.facebook.com/SidewaysDance  We promise is will brighten your day.
While this video shows what the Foster-Schmidt Dance Academy for Down Syndrome is doing inside the dance studio, there are many things these students do outside of dance class as well. To keep with the theme of the week, we would love brag about our girls and share the big things they were doing on Monday in honor of World Down Syndrome Day 2016.
Kendall Salmon, 16, is sophomore at Milton High School.  On Monday morning Kendall gave a speech for the Milton City Council in honor of this celebratory day. In Kendall's speech, she thanked the City of Milton along with Mayor Lockwood of Milton for accepting her and her peers with Down Syndrome and the providing them with wonderful opportunities and experiences over the years. Kendall advised the audience to be kind and caring to one another and emphasized the importance of spending time with family. She closes to say "It only takes one person to make a difference, and YOU can be that person!" Wonderful job Kendall, we are so proud of you! To watch the speech, visit Kendall's "World Down Syndrome Day" Facebook page and be sure to like it! Below is a photo of  Kendall at Milton's City Hall.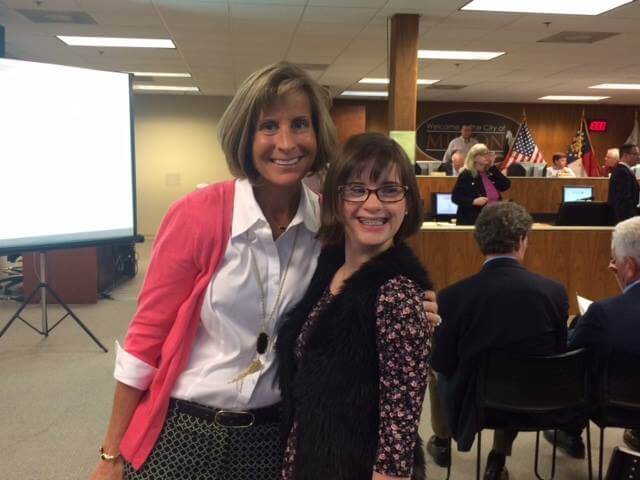 Down the road in Johns Creek, Foster-Schmidt student Marina Martinez, 17, was doing big things to celebrate as well! Marina appeared on Johns Creek High School's morning announcements, JCNN, to speak to her staff, teachers and fellow students about World Down Syndrome Day.  She thanked them for accepting her as an equal and providing her with the same opportunities and experiences as all other students. Marina and her friends set up a stand in the hallways to hand out yellow roses (as Down Syndrome awareness colors are blue and yellow) and handed out candy to students to spread the word about World Down Syndrome Day. Great work Marina, we are so inspired by you!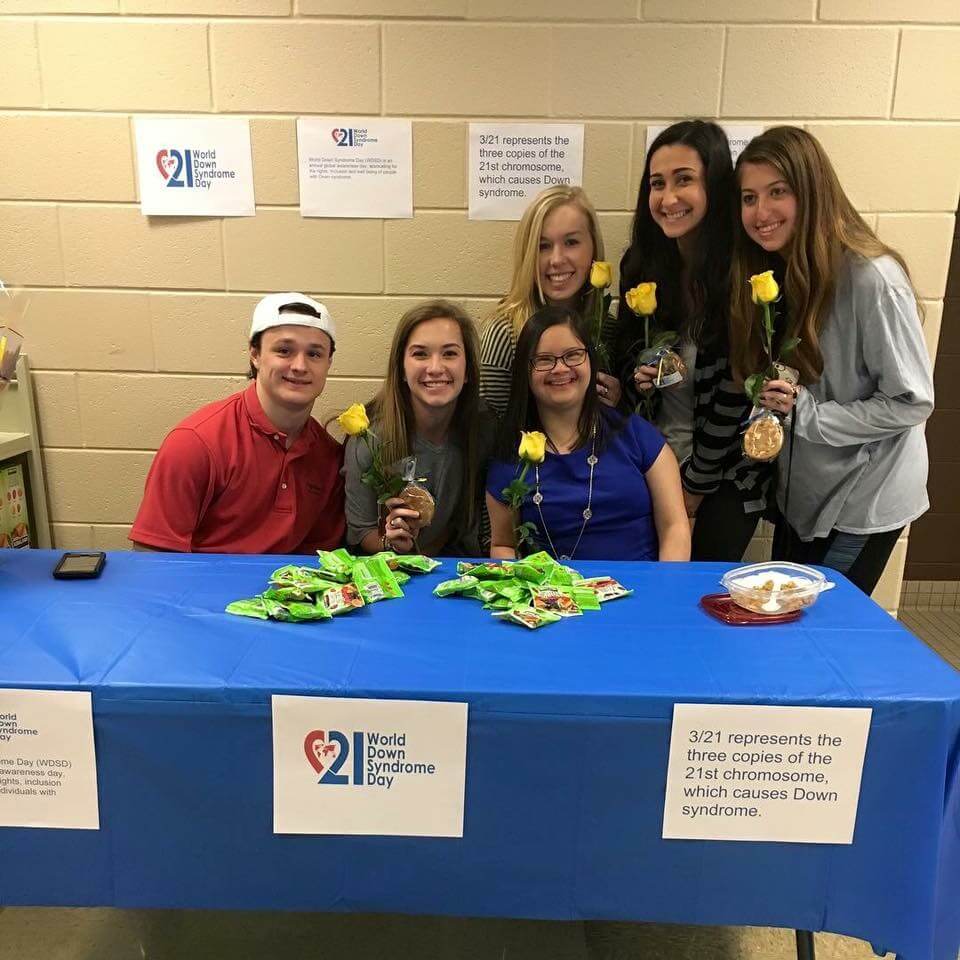 As we have said time and time again, and will continue to say, we feel so fortunate to dance and share the stage with each of these girls. If you want to learn more about SIDEWAYS Contemporary community outreach and our work with the Foster-Schmidt Dance Academy for Down Syndrome be sure to like us on Facebook and follow us on Instagram and Twitter @sidewaysdance for daily updates!