Once upon a Holiday is an annual tradition, 16 years running!
SIDEWAYS' festive take on an Alice-in-Wonderland turned Nutcracker story.
You'll follow Mrs. Claus down the Rabbit Hole, defeat the mean Grinch, and return home to your loving family (& only slightly evil sisters). With this heart-warming story, you can forget your worries & relive your days as a child – when the only thing that mattered was looking at the beautiful twinkling lights, singing your favorite songs, & baking cookies with your family. It's the Magic of the Holidays & this year it's coming to the Avalon!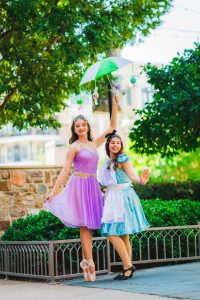 Combining our professional-trained dancers with local children ages 7-17, the show tells a holiday story though ballroom, jazz and contemporary dance that is fun for the whole family!
Experience the magic of the holiday spirit with SIDEWAYS!
"It makes me want to immediately start putting up my decorations. It really puts me in the Holiday Spirit !"
November 18th at 3:30 PM & 7:30 PM
November 19th at 11 AM & 3 PM