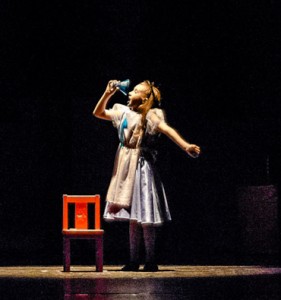 Happy Once Upon A Holiday Show Week!  That's right – the 10th season of Once Upon A Holiday is this weekend, November 20-22 at Blessed Trinity High School.  As if you weren't already excited to kick off your holiday season with this fun filled family friendly show, we have five reasons for you to be even MORE excited!
1. Who doesn't love an opportunity to see the Foster-Schmidt Dance Company perform?   We don't know how they do it, but the Foster-Schmidt Dance Company has the magical ability to be able to recall choreography from a year ago and know exactly what to do the very first time we review the choreography.  That being said, they've been rehearsing to open the matinee performances of Once Upon A Holiday this weekend.   The Foster Schmidt Dance Company is a proud partner of SIDEWAYS Contemporary Dance Company and have even danced with SIDEWAYS in June for "Pop!" and at Disney World. We can't wait to see them hit the stage on Saturday.
2. This year's show features a silky snow storm! At Atlanta Dance Central aerial classes have been a great addition to the youth program. SIDEWAYS dancers Andrea Ekmark and Kate Buchanan are excited to debut their aerial silks skills this year.
3. Lindsey Perry stars once again as Alice! Last year was Lindsey's first year in the lead role and she is excited to have the opportunity to be featured again this season. Lindsey is currently in Junior Company of Atlanta Rising Talent, and has grown technically and as a performer this past year.  We can't wait to see her shine again this weekend.
4. There's a new Grinch in town! Kate Buchanan has been performing in Once Upon A Holiday since she was in 5th grade, but this is her first year performing as a SIDEWAYS apprentice.  Her performance quality and ability to bring humor to her roles has always made her a standout on stage.  This year Kate has been cast as Alice's nemesis: the Grinch!
5. Once Upon A Holiday Alumni will join our cast for the party scene. Be sure to look out for them during "White Christmas." It is always fun to dance next to students who have graduated and we don't get to see as often as we wish we could. (Hint: one of them was Once Upon a Holiday's first Alice!)
As you can see, there are plenty of reasons to be excited about Once Upon A Holiday. Pick up your tickets here or at the box office the night of the show!