Rehearsals are under way for this season's Once Upon A Holiday! Once Upon A Holiday is a show mixed with flavors of Alice in Wonderland and The Nutcracker that is sure to put you in the holiday spirit. Follow Alice on her journey through Won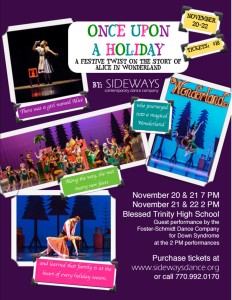 derland where she meets some of our favorite holiday characters including Mrs. Claus! SIDEWAYS combines contemporary, jazz, and ballroom dance in this fun-filled show for the entire family. The dancers are hard at work preparing for this year's show at Blessed Trinity High School the weekend of November 20-22.
This year's shows will be:
November 20th- 7:00 PM
November 21st- 2:00 PM & 7:00 PM
November 22nd- 2:00 PM
Tickets are available online here or over the phone at 770-992-0170. You won't want to miss out on what is sure to be your family's newest holiday tradition!