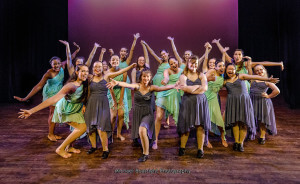 A very special moment happened in the studio the other day!  Some younger students came into the studio for classes at Atlanta Dance Central and their eyes lit up at the sight of the hanging holiday costumes.  "Ms. Charlotte!" a student exclaimed, "Does Santa work here?!"  Even though Ms. Charlotte had to explain that Santa doesn't work at Atlanta Dance Central (I mean, we wouldn't want children from all over the world flocking Roswell, GA in hopes of spotting Mr. Kringle himself) we knew the Once Upon A Holiday magic had arrived.
That's right!  SIDEWAYS dancers are back in the studio preparing for our 10th season.  This season will bring an even more grand Once Upon A Holiday performance to the Roswell community, and an anniversary performance in June with SIDEWAYS repertory favorites.
After the Disney trip in June, SIDEWAYS dancers got a short break from the season.  Auditions for children's roles in Once Upon A Holiday and professional auditions for this season were held in August, and rehearsals started back at the beginning of September.  Dancers have been in the studio putting the choreography back together for Once Upon A Holiday and working on some special new surprises that have been added to the show.  Put these dates on your calendar so you can help SIDEWAYS celebrate this anniversary season:
Thursday, October 15:  SIDEWAYS and the Foster-Schmidt Dance Company will be performing during Alive After 5 on Canton Street in Roswell.
Saturday, October 17: Frankenstein's Frolic Haunted Carnival & Dance Performance.  6:30 p.m. – 8:30 p.m. at Atlanta Dance Central.  This year will include Trunk or Treat in the parking lot!
Friday, November 20 – Sunday, November 22: Once Upon A Holiday at Blessed Trinity High School in Roswell, GA
Friday, June 3 – Sunday, June 5: SIDEWAYS 10 Year Anniversary Performance at Blessed Trinity High School in Roswell, GA
Once Upon A Holiday magic is now back in the studio as dancers learn their parts whether they are dancing penguins or jazzy snowmen.  With all of this happiness and cheer, who knows, Santa just might send in  his resumé!