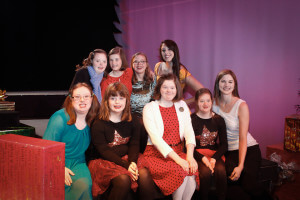 For nine Atlanta area dancers with Down syndrome, the dream of performing on a Disney stage in front of hundreds of audience members will come true in just a few short months. Members of the Foster-Schmidt Dance Company, who rehearse and take class at Atlanta Dance Central in Roswell, GA, have been accepted to perform at Disney World in June of 2015. In addition to performing, the dancers will participate in a workshop where they will learn choreography from Disney professionals.
This is the second season of the Foster-Schmidt Dance Company, which grew out of the Foster-Schmidt Dance Academy for Down syndrome. Company director Charlotte Foster Williamson began holding weekend workshops for students with Down syndrome in 2007. The workshops were so successful that she began holding weekly classes in 2010. These weekly classes are designed specifically for students with Down syndrome, as they help build muscle tone, strength, and coordination. Classes also increase opportunities for social interaction and promote awareness about the benefits of dance for all people.
Students in the Foster Schmidt Dance Company, which began in 2013, have to achieve high levels of skill, concentration, and dance technique. All dance company members are required to audition for the company in order to participate. These students work hard in class to master skills including learning proper dance technique, memorizing choreography, and performing alongside professional dancers of SIDEWAYS Contemporary Dance Company. Each individual student has and continues to work hard to achieve their dance company status.
Foster-Schmidt Dance Company members have performed at several venues in and around the Atlanta area including at dance conventions, events that support individuals with special needs, and local community events. They also perform with their peers at Atlanta Dance Central's annual recital. The dancers have developed poise and always represent themselves professionally.
Members of the Foster-Schmidt Dance Company are successful inside and outside of the dance classroom. Rachel Bramlett graduated from Lassiter High School in 2014 and is now receiving job training through the Transition Academy at Pope High School. She has won several medals in the Special Olympics for bowling, tennis, and swimming. Mary Claire Greig participates in the Emory Best Buddies program, holds a part time job, and is an altar server at church. Elizabeth Griner, a junior at North Atlanta High School is involved with Special Olympics basketball and bowling. Ashley Lebovitz graduated from Alpharetta High School in 2013. She currently works in the records department and is a Special Olympics Ambassador for the Johns Creek Police Department.
Marina Martinez is involved in several clubs through Johns Creek High School, and won sophomore homecoming court this year. Marina has presented her life experience with Down syndrome at the Emory School of Medicine as well as the Down syndrome Symposium in Puerto Rico. Sophia Porter participates in Young Life, Special Olympics, and cheerleading at Centennial High School. Carolyn Prunkl was a 10th grade homecoming court representative at Walton High School, where she also participates in the Drama Tech team. Kendall Salmon has earned her Silver Award as a girl scout, and participates in cross-country, student council, chorus, and the Key Club at Milton High School. Darby Taylor participates in dance and cheerleading, and also enjoys reading and writing. In addition to all of these activities, the members of the Foster-Schmidt Dance Company have a commitment to sharing their passion for dance with the community.
Advice from the members of the Foster-Schmidt Dance Company for making dreams come true is to "Be strong, be brave, and be yourself." They have each successfully taken their own advice and made their dreams of performing on the Disney stage come true. They cannot wait to share their talent with audience members from all over the world in Orlando this summer.