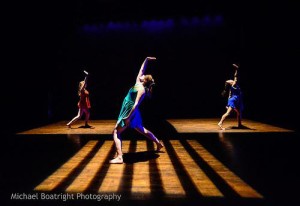 SIDEWAYS has started rehearsals for the upcoming June show, Pop!  The show will feature choreography by SIDEWAYS Artistic Director Charlotte Foster Williamson, along with guest choreographers Andrea Ekmark and Trey Mitchell. In Pop!, choreographers have been asked to examine the effect of the media, technology, and pop culture on our view of relationships and our self-image.  Each choreographer has their own interpretation of this idea, so we're taking you behind the scenes to learn more about our choreographers and what they are working on in the studio.  Today we're learning more about what Andrea Ekmark is working on, and in a couple weeks we can't wait to introduce you to Trey Mitchell!
Andrea grew up outside of the Washington, D.C. area and graduated from Woodbridge Senior High School's Center for Fine and Performing Arts, specializing in dance.  She received her B.F.A. in Dance Performance and Choreography from the University of North Carolina at Greensboro.  After graduating from UNCG she moved to Atlanta and began dancing with SIDEWAYS!  This is Andrea's fifth season in SIDEWAYS, and you most recently saw her as "Mrs. Claus" in Once Upon A Holiday.  Andrea is grateful for the opportunity to choreograph this season and is excited to work with her fellow SIDEWAYS company members.
We asked Andrea to tell us a little bit about what she is working on in the studio, and how she is using the inspiration behind Pop! to inspire her work:
"When I was originally approached with the idea behind Pop! I was interested in the psychology of celebrity from all angles.  I read about people, from children to adults, who either want to be famous or want to be connected with someone who is famous.  From the other perspective, I read about how celebrities present themselves and the illusion of what is portrayed to society versus what is reality.  At the end of the day celebrities are people doing their jobs and selling their brands, and somewhere along the way people get immersed in following their every move.  I took these ideas and put them into a series of vignettes that portray characters that are immersed in celebrity culture, and I can't wait to see how it all turns out!"
Dancers started working on Andrea's choreography this past Saturday, and we are excited to see it at 7 Stages Theatre June 19-21.  Check back soon for more information about what guest choreographer Trey Mitchell is working on!