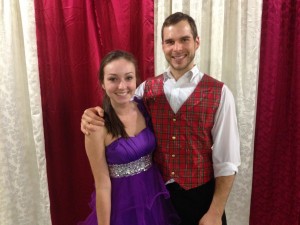 As we are approaching our  annual holiday show, we are so appreciative of Jeremy Williamson and Anslee Berry who are the only two remaining original cast members of Once Upon A Holiday! Why have they stuck with it so long? Both agree that it's "not Christmas without Once Upon A Holiday."
Over the years the show has changed a ton but with so many great pieces, old and new, Jeremy and Anslee  share a favorite: the "Snow" contemporary piece. "It is so pretty on stage and just mesmerizing!" says Anslee. As the show has progressed, scenes have been taken out as well. Jeremy says one of the scenes he misses (but hated at the time) was when he had to come out dancing to "Mele Kalikimaka" in a grass skirt and coconut bra. That dance will for sure be missed!
These two 'originals' shared some more of their favorite memories from their time spent in Once Upon A Holiday. Anslee misses an old dance where two past Sideways members, Chuck and Matthew, danced to "We Need A Little Christmas". A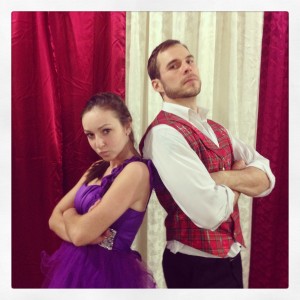 dance that is now performed by two adorable little girls dressed in gingerbread costumes! She loved how funny it was in the past and that it was a nice twist in the show. As some may not know, Jeremy works a lot behind the scenes in prop making and other technical areas that are essential to a successful show. Some of his favorite memories are discovering that the props he made actually work! When Alice enters Wonderland, there is a big twinkly "Wonderland" sign that would not have been possible without Jeremy's hard work! When the evil sisters roll around in their jack-n-boxes, he is proud to say that he created those eye-catching set pieces that make the show so special! "It's like magic!"
You can catch these two in the show as Alice's father and Alice's evil stepsister! Don't miss out, and get your ticket today at www.sidewaysdance.org!
December 13-15 at 7 Stages Theater, $15-$20 per ticket